NBS Comics is an interdisciplinary project that works together with artists, scientists, and NBS experts to commission and empower comic creators to tell their stories of nature and people.
Go to the bottom for the NBS Comics Team and Credits.
One of our hopes for this ongoing series is to tell good stories about nature that are intelligent, entertaining, and change-making. Stories from new voices. Stories that reach new people. We want to create dialogue and raise awareness about nature and the essential roles it plays in our daily lives. We appreciate being part of a growing movement of comics with environmental and social purpose.
For a lot more about NBS and our partner in this work, NetworkNature, try this: https://networknature.eu.

What Does "NBS" Mean?
NBS are about working with nature for people and working with people for nature. This can involve protecting, sustainably managing and/or restoring ecosystems to address societal challenges, while benefiting biodiversity and communities.
NBS are the result of ecosystems and natural process that protect both people and nature, improving the functioning of infrastructure, and supporting a resilient, sustainable, liveable, just, and biodiverse future.
Check this out: NBS made easy.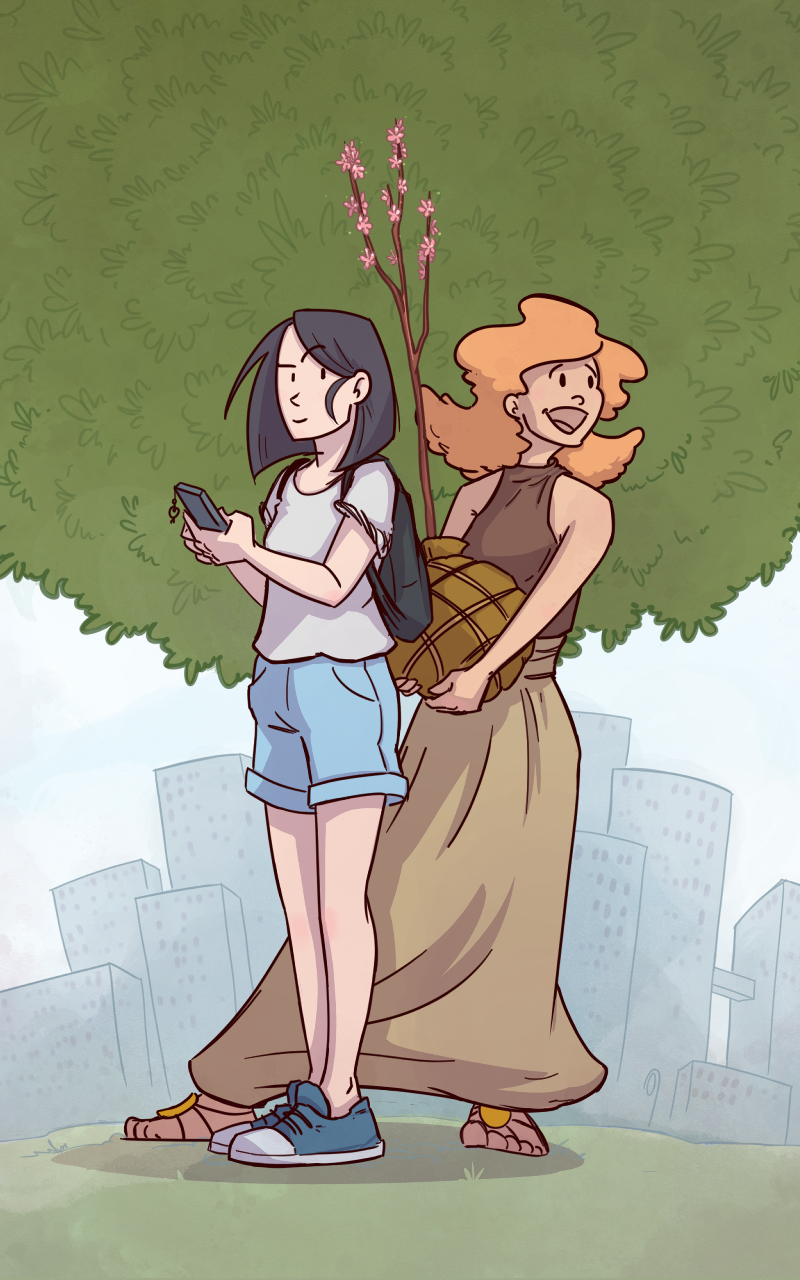 There are numerous formal and informal definitions of NBS. This is the one we use: NBS are actions to protect, conserve, restore, sustainably use and manage natural or modified terrestrial, freshwater, coastal and marine ecosystems, which address social, economic and environmental challenges effectively and adaptively, while simultaneously providing human well-being, ecosystem services and resilience and biodiversity benefits. (UNEP-5)
NBS often take the form of actions to protect, sustainably manage, and restore natural and modified ecosystems while addressing societal challenges effectively and adaptively, simultaneously benefiting people and nature.
These could be street trees sucking up storm water; or parks cooling urban heat; or re-wilded cities reducing biodiversity loss; or green spaces that promote happiness. Or maybe the tree under which you fell in love.
Where do the Comics Come From?
The NBS Comics project invites comic creators (through open calls and commissions), to imagine comics about nature and her benefits. Creators can use any comic style, various approaches to storytelling, and many languages.
Based on the initial round of submissions in 2023, seven comic creators were commissioned to produce a first series of comics for this purpose-built platform.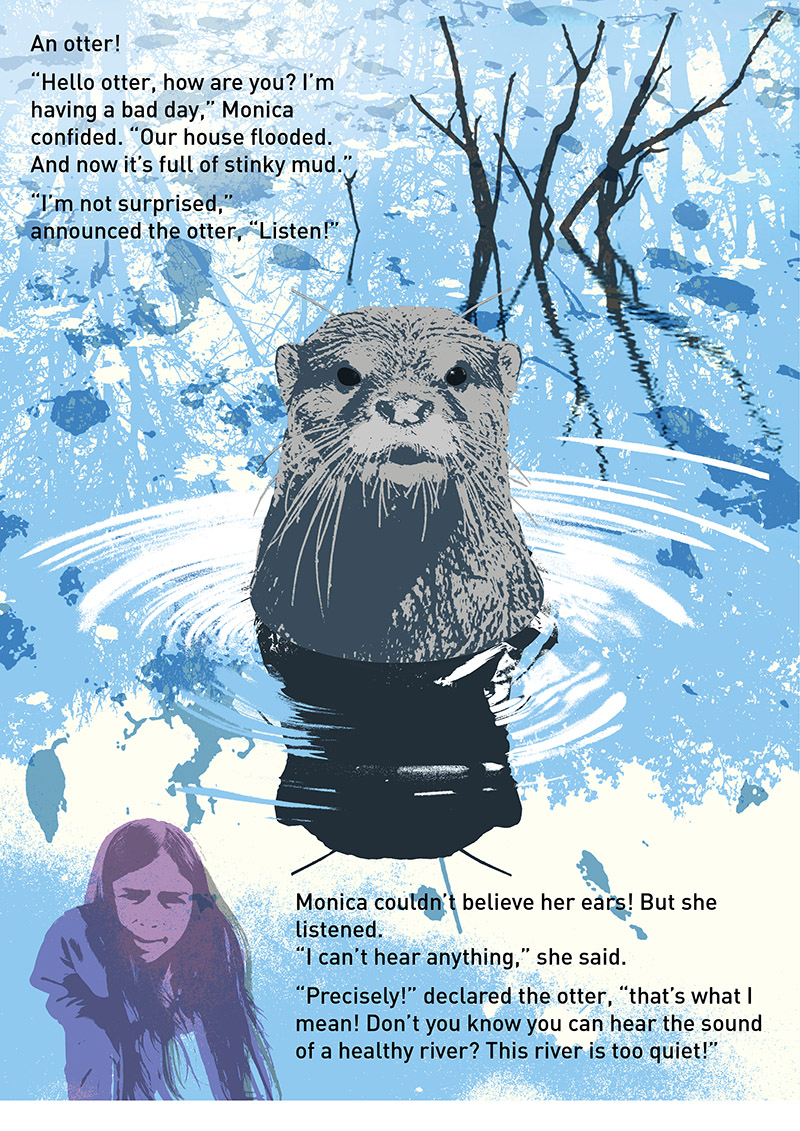 For the purposes of this project, the NBS characterized in the comic might be realism, or fantasy, or sci-fi : an otter talks to a little girl about why the river floods; a woodland community takes care of a forest that takes care of them; two young women at a bus stop hatch a plan to make a green street; an entrepreneurial fox undoes the mistakes of urban planners; and more.
This is an ongoing series. We'll have new open calls, and may commission comics directly from teams of collaborators.
How Do I Submit My Comic Idea?
NBS Comics 2023 was a big success, with over a million readers in our first edition! We are pleased to announce that there is currently an open call for the 2024 edition, accepting works from comics creators all over the world.
The team: Who is Behind This?
NBS Comics is produced by The Nature of Cities—Europe together with multiple partners and individuals from diverse backgrounds and disciplines. The project has received funding from the European Union's Horizon Europe research and innovation programme under project NetworkNaturePLUS 101082213. The work is also funded by UK Research and Innovation (UKRI) under the UK government's Horizon Europe funding guarantee [grant number 10064784].
Directors:
David Maddox, The Nature of Cities
Emmalee Barnett, The Nature of Cities
Web Design & Development:
Patrick M. Lydon, The Nature of Cities
Interdisciplinary Advisory Panel:
A mix of comic creators, artists, designers, scientists, and communicators help to advise and adjudicate this project.
They include: Kjella Acosta; Carmen Bouyer; Marcus Collier; Stuart Connop; McKenna Davis; Marthe Derkzen; Isobel Fletcher; Ivan Gajos; Eddy Grand-Meyer; Susanne Gionfra; SeongGeun Han (한성근); Ivelina Ivanova; Poppy Leditschke; Hanuka Lohrengel; Patrick Lydon; David Maddox; Israa Mahmoud; Paul Mahony; Siobhán McQuaid; Claudia Mistelli; Sandra Naumann; Nea Pakarinen; Heeyoung Park; Mitch Pavao-Zuckerman; Alice Reil; Kassia Rudd; María Nuñez Rodríguez; Shreya Utkarsh; Roger Roca Vallejo; Sophie Vandewoestijne; Tom Wild; Bettina Wilk; Marianne Zanderson.
A very special thanks to our original enthusiast, Bettina Wilk, for her willingness to say "yes, let's try that".
Want to partner with us to make more comics like these, or use them for education and outreach? Other questions or thoughts on how to engage with this project? Write us: [email protected].